AC Motor Controller Dragon 8
AC Motor Controller Gen4 Size 8
The Dragon8 sets a new standard in AC motor controller performance and reliability. It is compatible with a wide range of motors – Asynchronous AC Induction and Synchronous
Permanent Magnet AC (PMAC) or Brushless DC (BLDC).
Dragon8 has electrical isolation between high power battery/ motor wiring and the lower voltage control signals and CANBus.
This allows the IO to reference the 12 V (or 24 V) battery and vehicle chassis return path.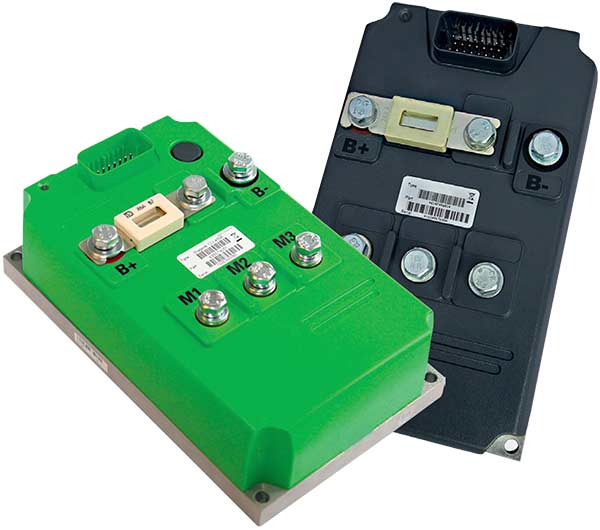 Features
Integrated & isolated IO and logic circuit
Supports AC Induction and PMAC/BLDC
Isolated CAN communications bus allows for easy interconnection of controllers and devices such as Battery Management Systems, displays and VCUs
CANopen and J1939 protocol
Configurable as a vehicle control master or as a motor control slave
Power up auto-check system fault diagnostics
Programmable battery current limit IP66 protection
Integrated power fuse holder
Integrated I/O Key Parameters
Dragon8 includes a fully integrated set of inputs and outputs (I/O) with vehicle control functionality, designed to handle a wide range of system requirements and functions. This frequently eliminates the need for additional external I/O modules, vehicle control units and connectors.
Up to 6 digital inputs (3 inputs dual use as UVW encoder input)
Up to 4 analogue input (2 analogue inputs dual use as Sin/Cos encoder input)
Up to 2 contactor drivers
Dedicated 5V, 200 mA output
Dedicated 10V, 200 mA output
Motor temperature sensor input
Motor encoders supported include Resolver (programmable gain), UVW hall effect sensors, Sin/Cos sensors and incremental AB encoders .