Borgwarner AC Motor Controller Gen4
Borgwarner AC Motor Controller Gen4
The Gen4 range represents a well established design in compact AC controllers. These reliable controllers are intended for on-road and off-road electric vehicles and feature the smallest size in the industry for their power capacity.
Thanks to the high efficiency it is possible to integrate these controllers into very tight spaces without sacrificing performance.
The design has been optimised for the lowest possible installed cost while maintaining superior reliability in the most demanding applications.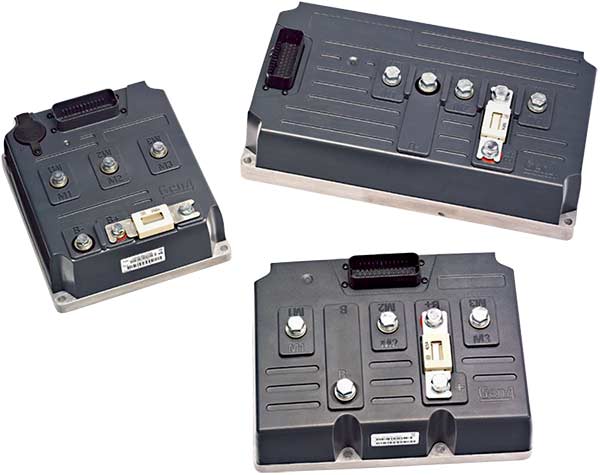 Integrated I/O
Gen4 includes a fully-integrated set of inputs and outputs (I/0) designed to handle a wide range of vehicle requirements. This eliminate the need for additional external I/O modules or vehicle controllers and connectors.
8 digital inputs 2 analogue inputs (can be configured as digital) 3 contactor/solenoid outputs 1 encoder supply output – programmable 5 V or 10V Motor temperature sensor input Motor encoders supported include UVW hall effect sensors, Sin/Cos sensors and incremental AB encoders.
Features
Advanced Field Oriented Control
AC Permanent Magnet Synchronous motor control, including salient, non-salient and BLDC motors
AC induction motor control
CAN communications bus allows for easy interconnection of controllers and devices such as Battery Management Systems, displays and VCUs.
CANopen protocols
Configurable as a vehicle control master or as a motor control slave
Autocheck system diagnostic
Hardware & software failsafe watchdog operation
Integrated fuse holder
IP66 protection
Highly configurable