AC Motor Controller Gen5 Size 9
AC Motor Controller Gen5 Size 9
The Gen5 range of products is well-matched to satisfy automotive, commercial and construction markets' electrification needs. The Gen5 Size 9 is specifically aimed at
vehicle OEMs and system integrators to offer them a compact, lightweight, robust and cost-effective, class-leading suite of solutions covering traction, hybridisation, power generation and sub-system electrification.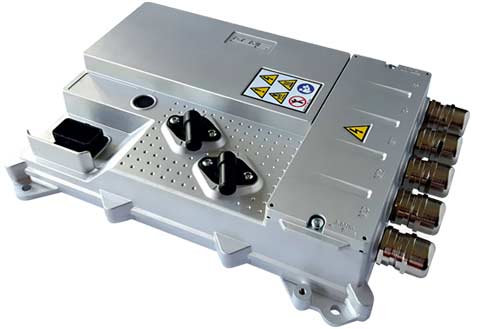 Intelligent I/O
The Gen5-S9 includes a fully-integrated set of inputs and outputs designed to handle a wide range of vehicle functions.
This eliminates the need for additional external I/O modules or vehicle controllers and connectors.
All I/O protected to 40V
4 analogue inputs 0 – 10 V allowing for easy configuration of dual throttle and dual brake applications
2 PT1000/KTY84 thermocouple input
4 digital inputs
4 digital outputs PWM 2A (2 high side 2 low side)
3 programmable encoder power supplies
(1x200mA 2x100mA voltage configurable)
Motor encoders supported include Resolver (programmable gain), UVW hall effect sensors, Sin/Cos sensors and incremental AB encoders
Key Parameters
Operating voltage up to 450Vdc (de-rating above 420 V)
Output motor phase current
• 450 Arms (1 min)
• 200 Arms (1 hour+)
Safety
• HVIL safety functionality
Environmental
• –40°C to +85°C operation, IP6k9k, ISO 16750
• Water/Glycol coolant flow rate 10 l/minute (de-rating above 55°C)
Features
Advanced Field Orientated Control with support for Permanent Magnet Synchronous Motors and AC Induction Motors
I/O and CAN are electrically isolated
CAN communications bus allows for easy interconnection of controllers and devices such as Battery Management Systems, displays and VCUs
CANopen and J1939 protocols
Configurable as a vehicle control master or as a CAN motor torque slave
12 V or 24 V logic supply