AC Motor Controller Gen4 Size 10
BorgWarner - AC Motor Controller Gen4 (Size 10).
An AC motor controller designed to meet the high performance requirements of on-road and off-road Electric (EV) and Hybrid Electric Vehicles (HEV).
The Gen4 Size 10 is capable of operation up to 800VDC and up to 450 A rms phase current.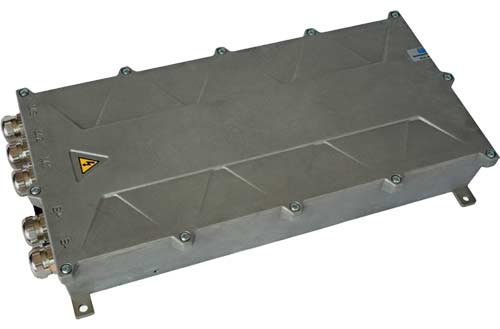 Integrated I/O
Gen4 Size 10 includes a fully-integrated set of inputs and outputs (I/0) designed to handle a wide range of vehicle requirements.
This eliminated the need for additional external I/O modules or vehicle controllers and connectors.
All I/O protected to 40V
4 analogue inputs 0 – 10V
4 digital inputs
3 power supplies 0 – 10 V 100mA
3 contactor/solenoid outputs max 2A
Motor temperature sensor input
Programmable 5 V to 10 V encoder supply
Motor encoders supported include
Resolver, UVW hall effect sensors, Sin/Cos
sensors and incremental AB encoders
Features
Advanced Field Oriented Control
AC Permanent Magnet Synchronous motor control, including salient, non-salient and BLDC motors
AC induction motor control
CAN communications bus allows for easy interconnection of controllers and devices such as Battery Management Systems, displays and VCUs
CANopen and J1939 protocols
Configurable as a vehicle control master or as a motor control slave
Integrated logic circuit, 12 V or 24V nominal
Up to 800 VDC supply voltage
Up to 300 kW peak power output
Up to 150 kW continuous power output
Includes an additional dedicated safety supervisory processor
Safety interlock pulsed enable signal
Highly configurable
Key Parameters
Operating voltage range at full current 50 V to 800V
Output motor phase current:
• 400A rms (2 min)
• 200 A rms (Continuous)
Water/Glycol coolant (oil cooling available for custom applications)
Weight: 10.9 kg