Display 4.3″ LDC-TFT Touchscreen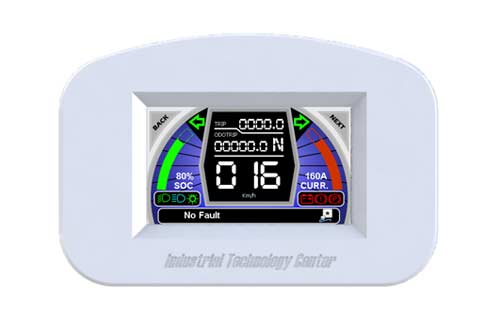 The ITC 4.3″ Display is a CAN open tool for displaying all the  information from the Sevcon GEN4 control connected to the electric vehicle motor.
It is also completely customizable and can be operated with battery status management systems (BBS, BMS).
Characteristics:
CANopen.
4.3-inch
480×272 resolution with color LCDTFT (over 16 Mil.) capacitive touchscreen
Power supply: Input: DC 7-42 Volt
1 relay output N.O. and N.C. controllable up to 2AMP switching
current
10 protected digital Inputs
3 unprotected digital inputs
Fully configurable on request and editable by the user
Integrated Data Logger function
Possibility of inserting a Bluetooth module for Data Transfer as an optional accessory.
As you can see from the previous figures, our display is very  customizable according to customer's requests, and you can customize the splash screen, even with multiple images, and you can completely redesign the arrangement of Graphic objects on all pages.
In this way you can consult the various states of the control, the motor, the batteries or other devices that communicate their information on the can BUS.
The images below are others examples of customization, giving you an idea of how you can create unique screens.