The ENERGY STORAGE CONNECTORS (E.S.C.) series GRD and GRD-M are field installable.
High reliable alternative to common compression lugs.
Using industry standard crimp. Busbar, inner and outer screw termination options.
The GRIDPOWER E.S.C. connectors range are environmentally sealed and features a quick and press-to-release design.
Incorporating the latest technology of "LIN CROWN" contacts makes it compact, quick mating and robust product line.
The high amperage contact technology utilizes high tensile strenght properties of stamped and formed, high conductivity alloy to produce low insertion forces while maintaininga large conductive surface area.
FEATURES
IP67 RATED
KEYED DESIGN TO PREVENT INCORRECT MATING
TOUCH PROOF
360° ROTATING PLUG ·QUICK LOCK AND PRESS TO RELEASE
TERMINATION OPTIONS: THREADED, CRIMP, BUSBAR

CONNECT AND DISCONNECT PLUG ON 4 AXES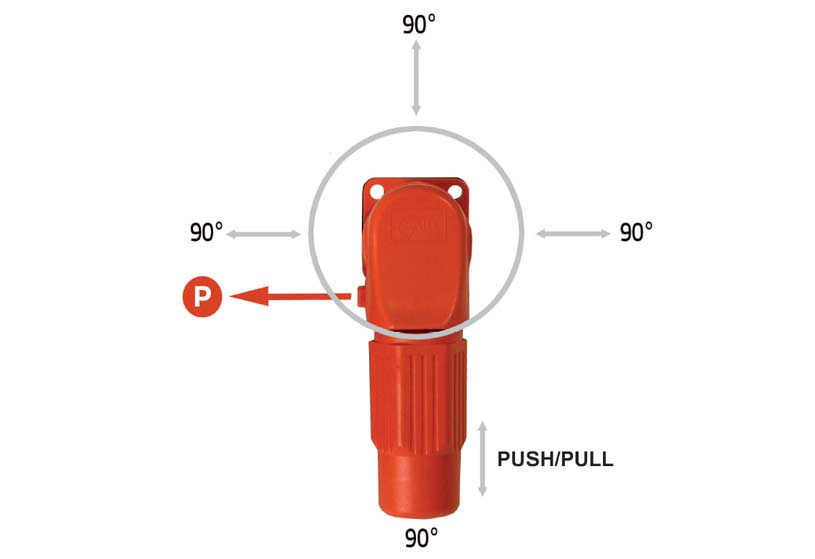 360° ROTATING PLUG CLOCKWISE - COUNTERCLOCKWISE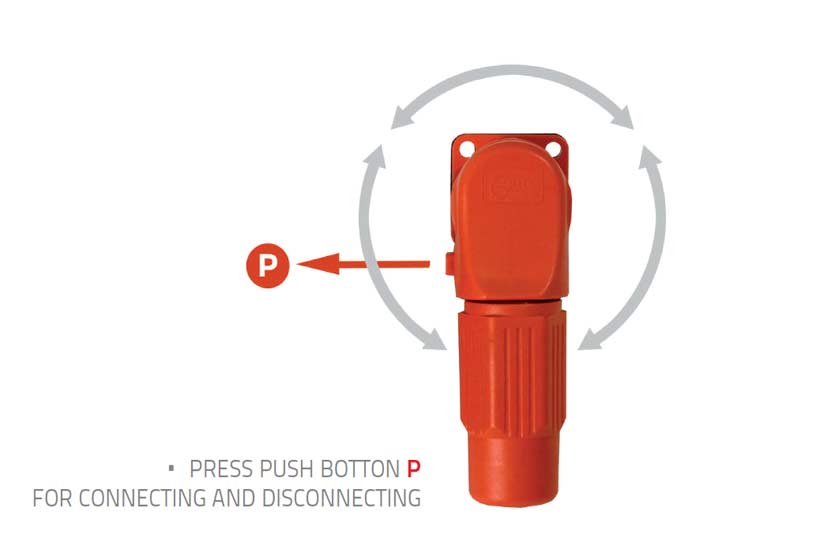 CURRENT RATING: 100A – 500A
DIELECTRIC VOLTAGE: 2500 Vac
CONTACT RESISTANCE: 0,2 m½ max
RATED VOLTAGE: 1000 Vdc (GRD006) – 1500 VDC (GRD008-GRD015)
ENVIRONMENTAL PROTECTION: IP67 (MOUNTED AND MATED)
FLAMMABILITY: UL94 V-O
PLASTIC RESIN: PBT
CONTACT MATERIAL: COPPER ALLOY SILVER PLATED
TEMPERATURE RATING: – 40 °C TO + 125 °C
MATING CYCLES: 2500 times
RoHS – REACH – TÜV – CE: CERTIFICATED
UL – CUL: UNDER CERTIFICATION
RECOMMENDED CABLES DIAMETERS AND CROSS-SECTIONS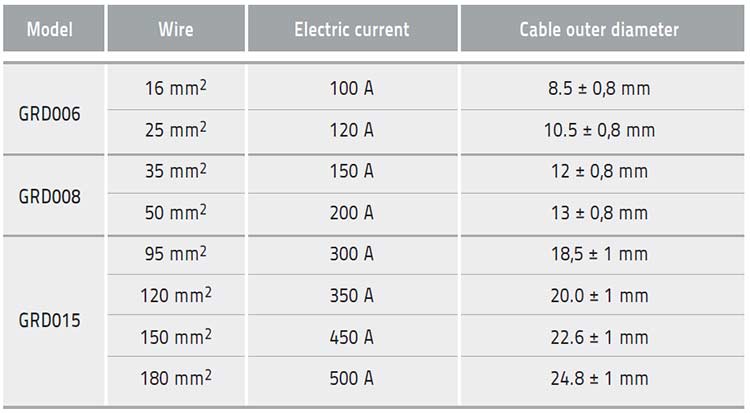 POLARIZATION KEY VERSION 3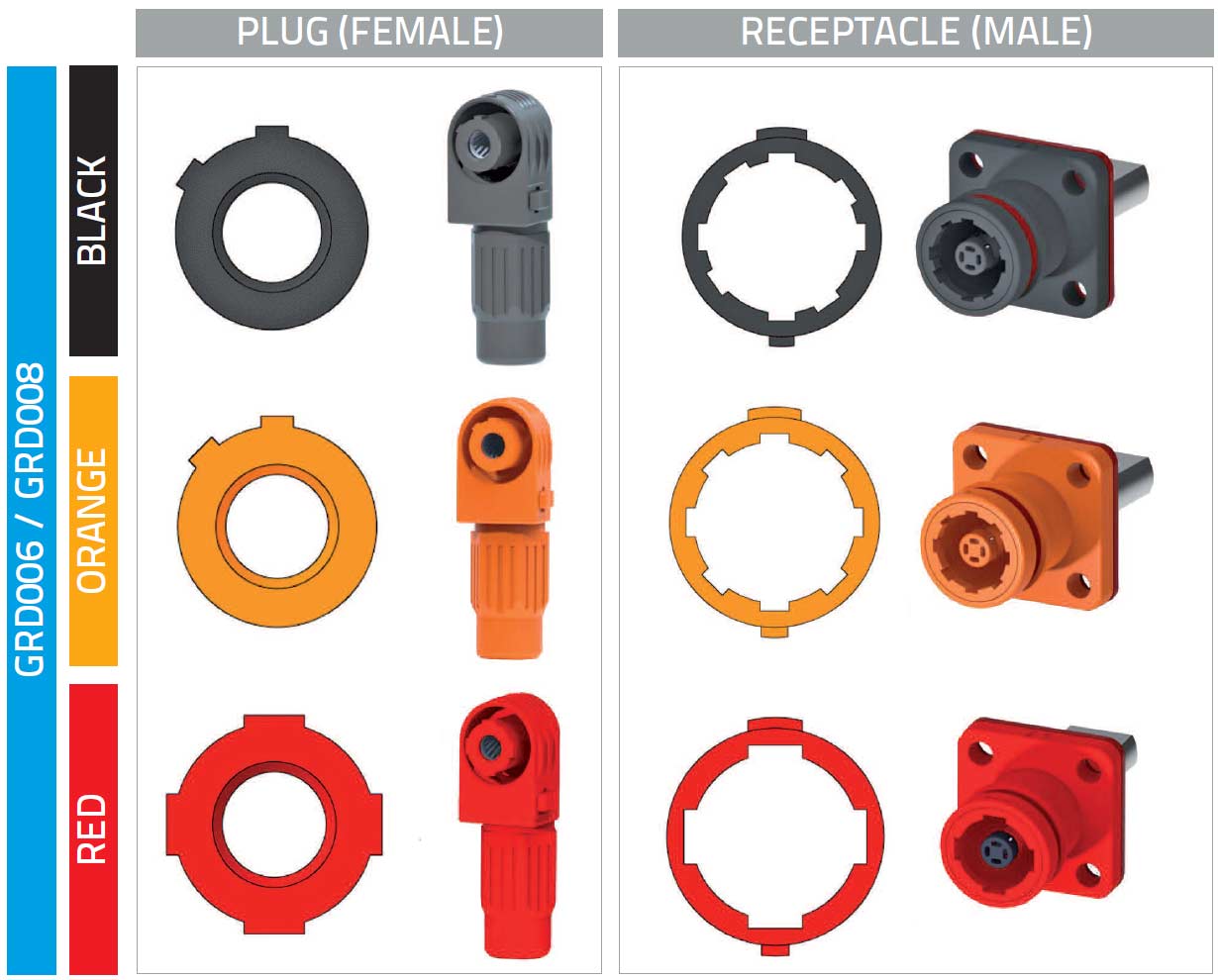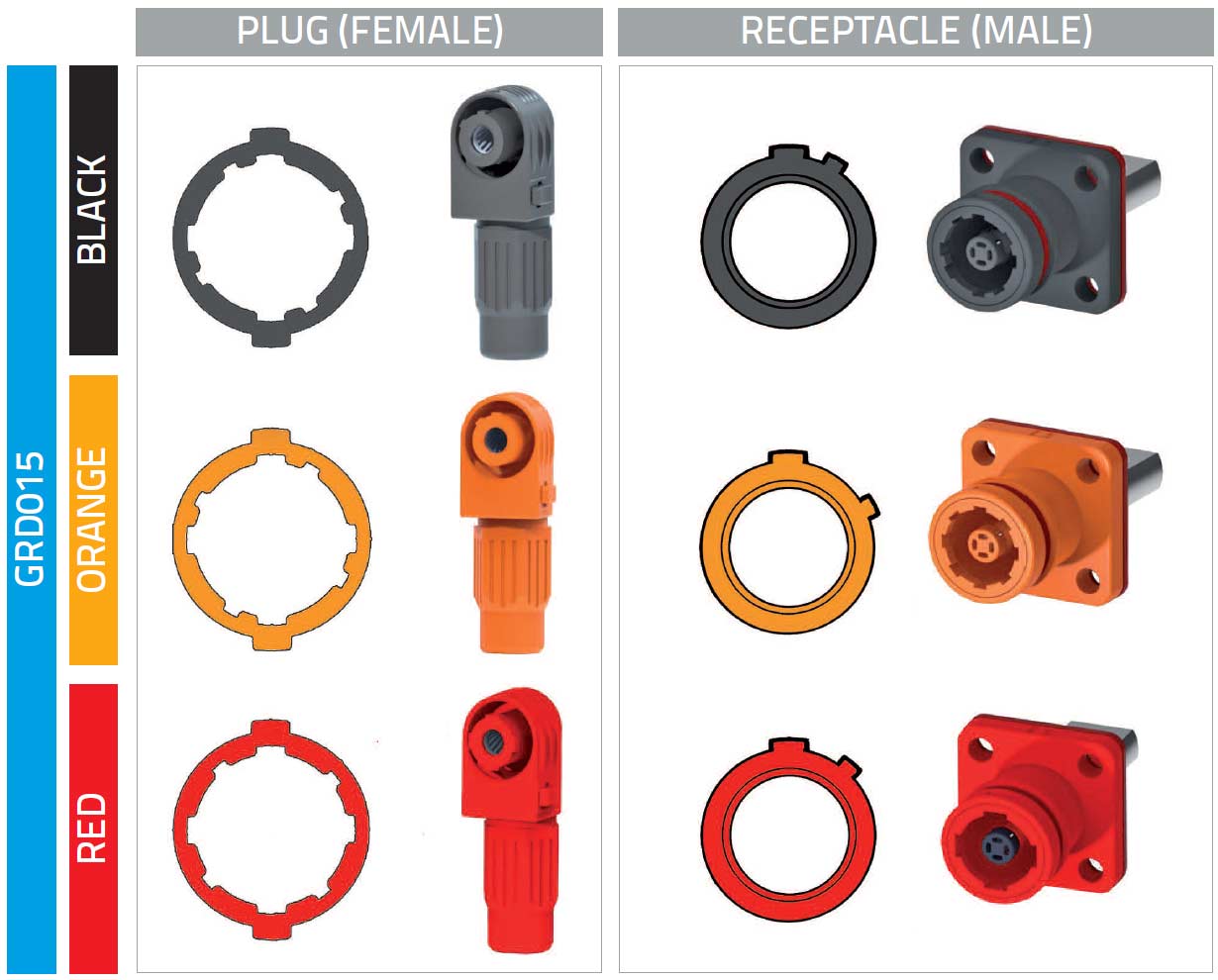 Busbar termination for direct connection between cable with crimped lug to panel.
The connector is supplied with "Protection cap" to insulate the terminal lug and sealing gasket.
Operating temperature: – 40°C to + 125 °C
Degree of protectio: IP67 · Flammability: UL94-VO · Plastic material: PBT
Contacts: copper silver plated
Rated current: 300 A max · Rated voltage: 2500 Vac 60 secs
Dielectric volts: 2500 Vac 60 secs
Insulation resistance: 1000 Vdc 60 secs · Standard colours: red / black / orange